3D print with the Creality CR-X two filaments, two colors or two different materials – ideal for additive manufacturing of large components
With the Creality CR-X you can 3D print two filaments, two colors or two different materials. The two filaments are stored on two spools and fed through a dual-extruder to the single nozzle. There they mix or extrude separately from each other – the choice is yours. The CR-X 3D printer's design and features make it ideal for additive manufacturing of complex components with two-color or water-soluble support structures. The assembly time takes about 15 minutes.
The most important novelties of the Creality CR-X:
Additive manufacture with two filaments or support materials of different colors and material properties
Two filaments, two extruders and one nozzle
Very large installation space of 300 x 300 x 400 mm
Integrated construction: Most of the electronics are built into the housing of the Creality CR-X
Innovative Carboloy Silicone Building Platform
Large 4.3-inch color touch screen
3D print with two filaments or support materials colorful and complex components
Use the Creality CR-X with two filaments and support materials to additively manufacture colorful and complex components. This 3D printer allows you to 3D print on a surface of 30 x 30 x 40 even large components. The innovative hotend enables you to create two-color 3D prints. The two extruders feed either the right or the left filament to the nozzle as required. Between a material change, they extrude residues onto a material block.
Simple operation of the Creality CR-X 3D printer with touch screen
Control and operate your Creality CR-X 3D printer very easily, comfortably and precisely via its built-in touch-screen. Read all necessary information about your device in real time and optimize your additive manufacturing process.
Setting the building platform over five areas enables smooth levelling
The easy to use levelling screws allow you to quickly and easily level and optimally adjust the Creality CR-X construction platform. The touch screen always gives you an overview of the optimum entries for levelling. It guides you through the individual adjustment steps.
Removable glass plate with silicone plastic coating reduces warping and allows easy removal of your 3D printed objects
The removable glass plate with silicone plastic coating ensures that your components adhere well to the building platform during 3D printing. After your 3D printing process is complete, the objects can be removed very conveniently and easily by cooling the glass plate – without any annoying scratching.
Further improvements of the Creality CR-X 3D printer:
Enlarged power supply of the Creality CR-X allows the heating bed to warm up to 100 ° C in 6 minutes
Large and easy to use adjustment screws for the construction platform
Only one connecting cable between the control unit and the frame of the 3D printer
Two fans guarantee improved, faster and more efficient cooling
Process water-soluble filament – Use the second nozzle to use water-soluble support material; it dissolves easily in water, allowing you to create more beautiful surfaces in 3D
All-metal extruder with optimized strength, longer life and flexible adjustment for smarter 3D printing experience
Two Z-spindles ensure smoother and more even running
3D prints resume after power outages for more reliable 3D prints and less wasted filament
Creality3D motherboard version 2.1: Complete upgrade, quality control, industrial quality, 200 hours of uninterruptible 3D printing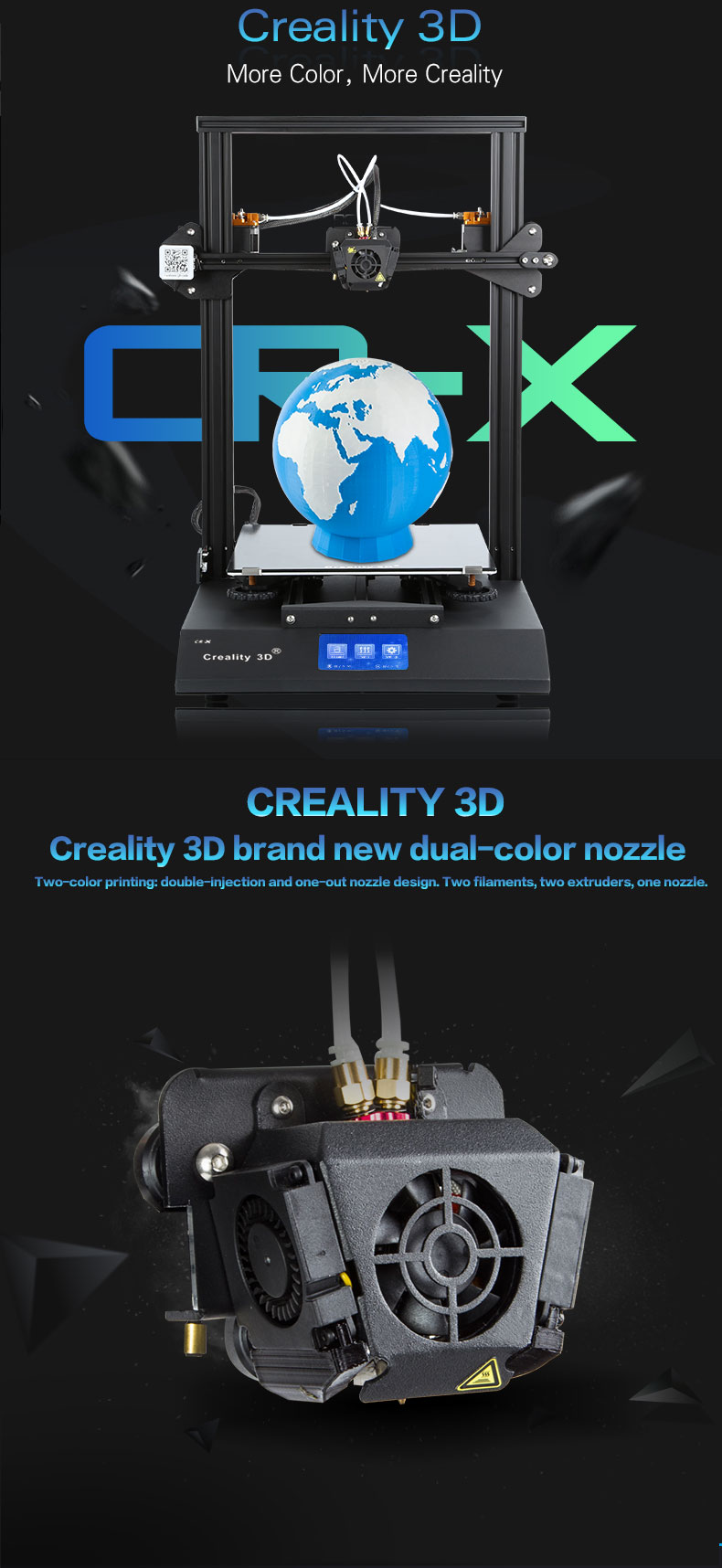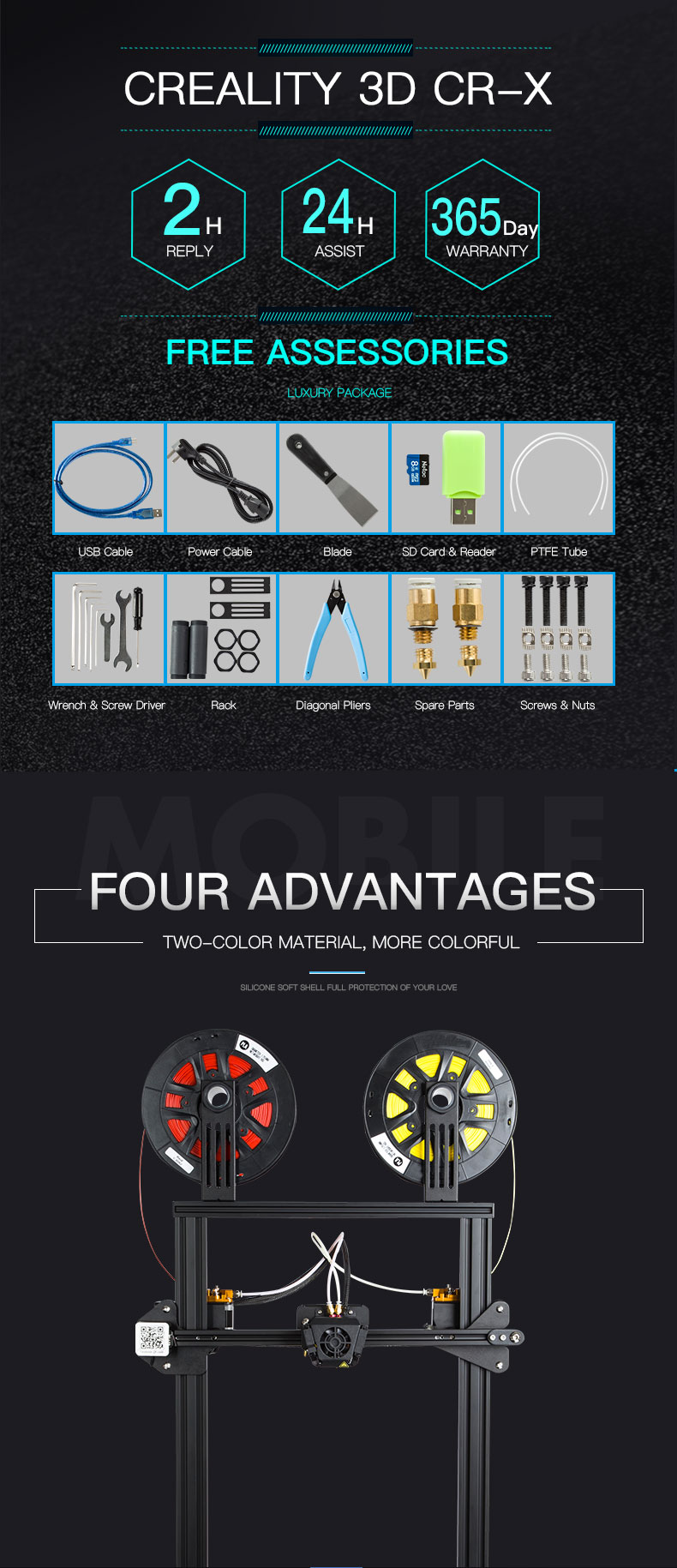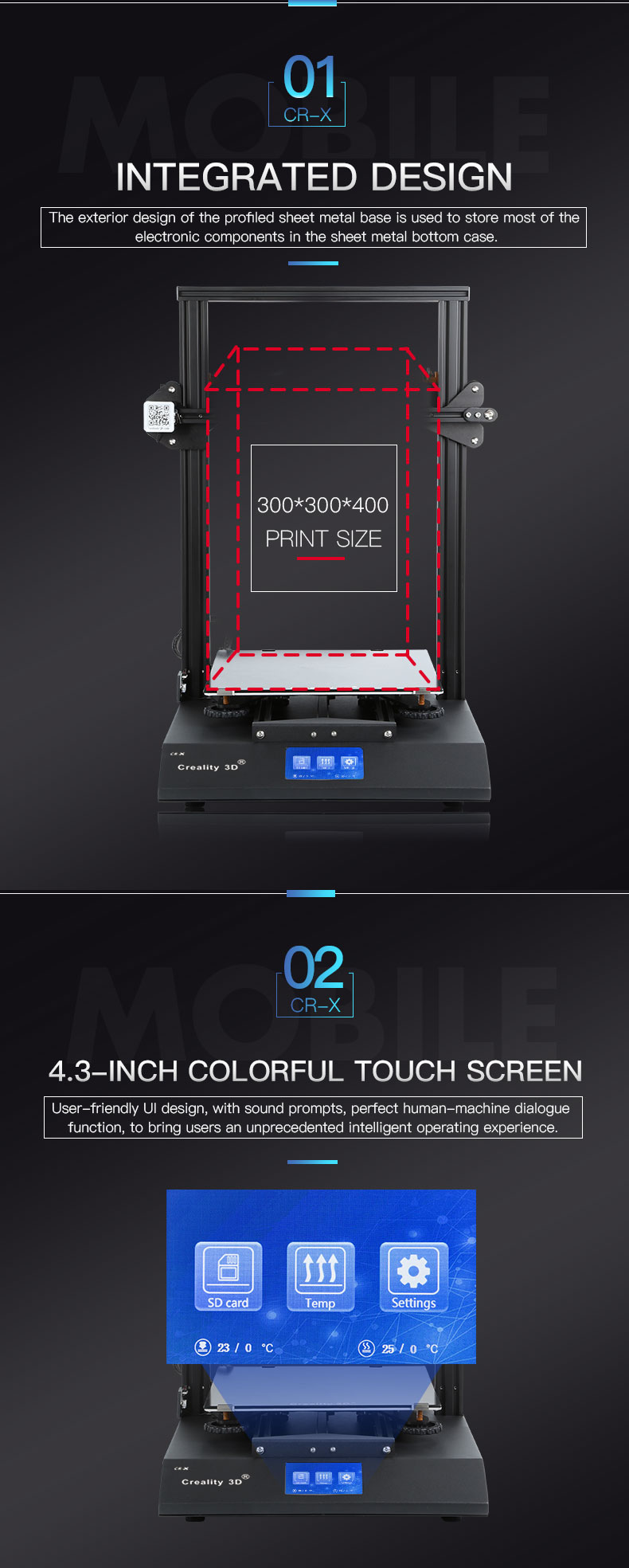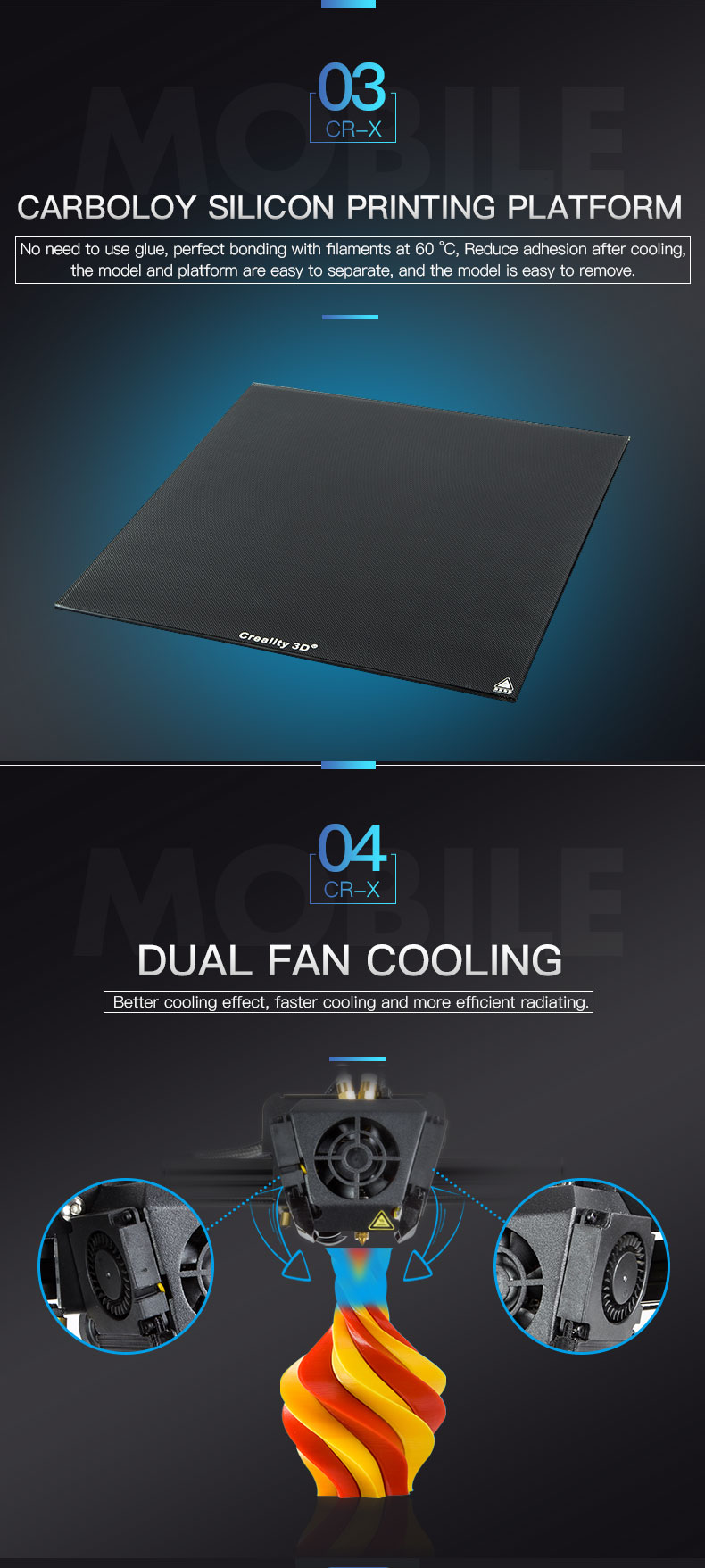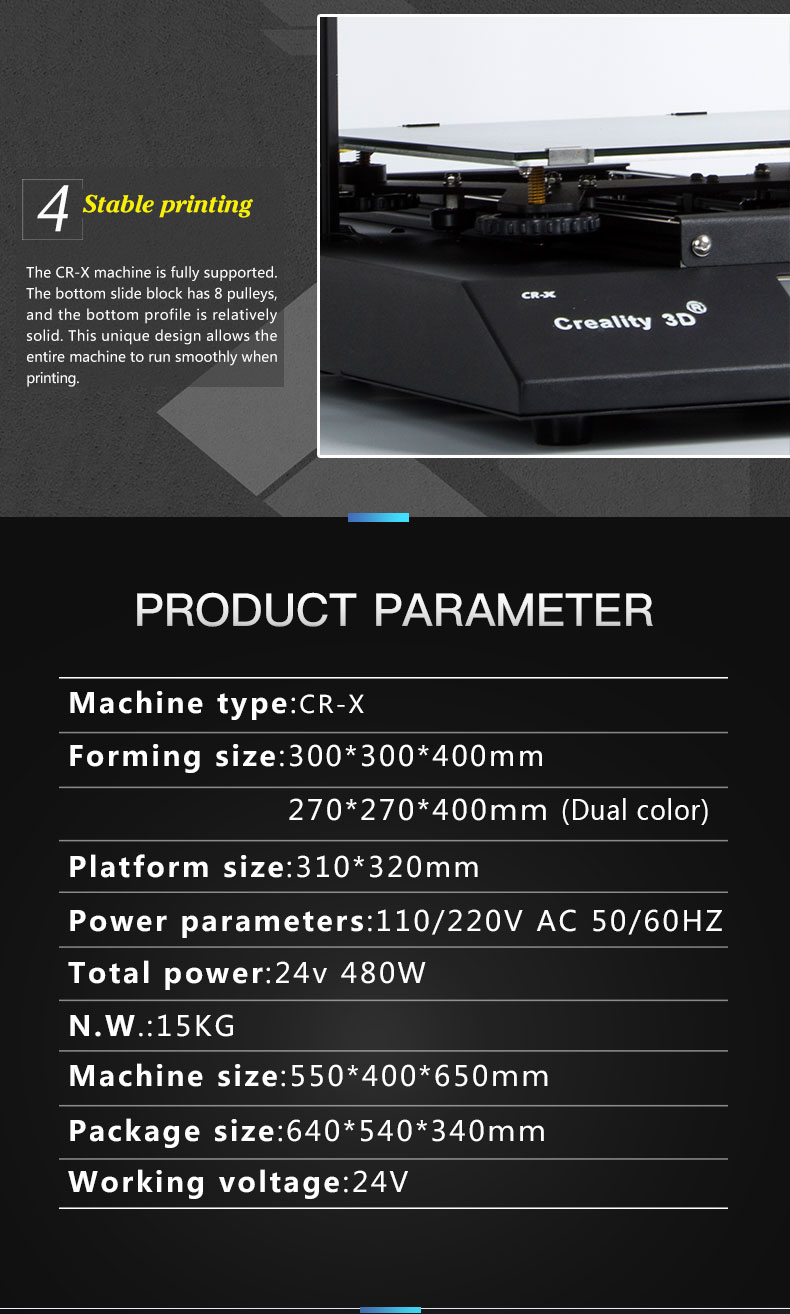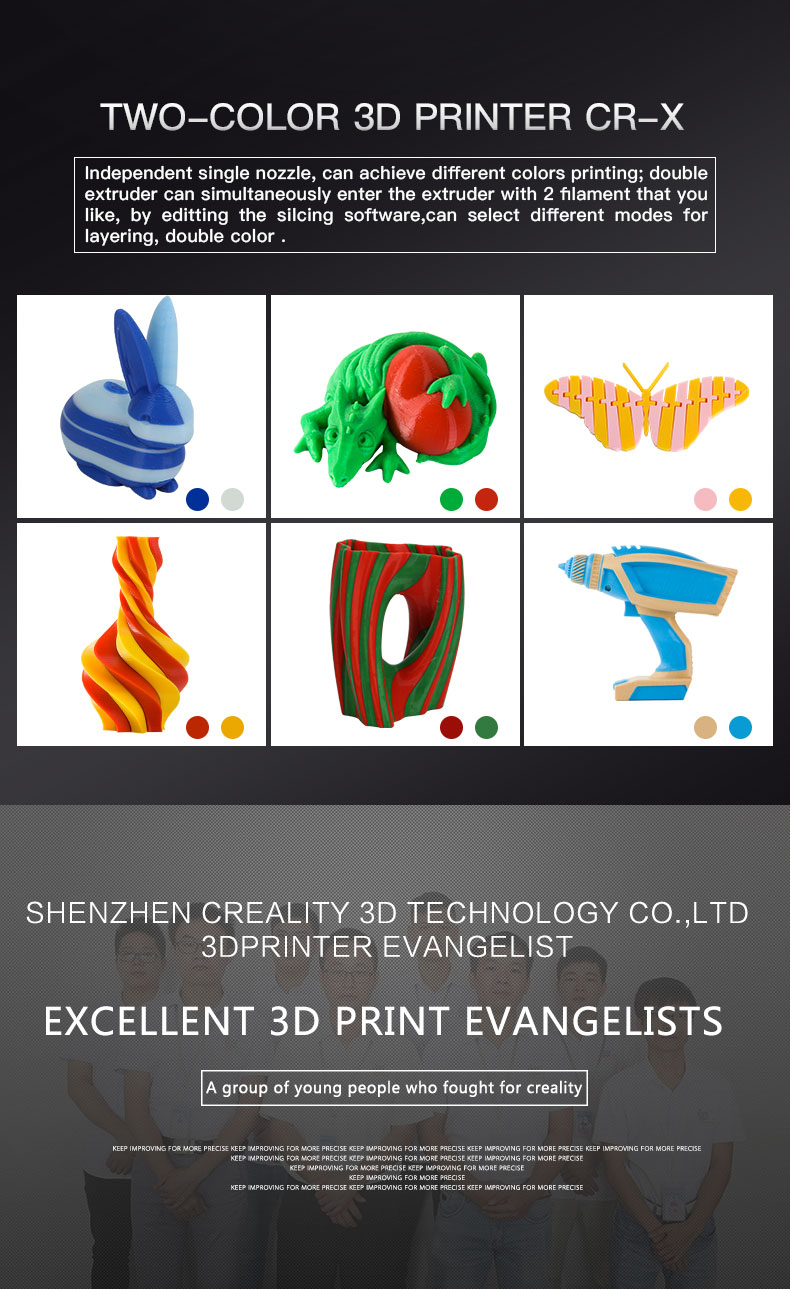 Buy the Creality CR-X and 3D print with two filaments, two colors, or two different materials. This 3D printer is ideal for additive manufacturing of large and complex parts.
Advantage:
1. Two-color printing: double-injection and one-out nozzle design. Two consumables, two extruders, one nozzle.
2. Integrated design: The exterior design of the profiled sheet metal base is used to store most of the electronic components in the sheet metal bottom case.
3. 4.3-inch colorful touch screen: user-friendly UI design, with sound prompts, perfect human-machine dialogue function, to bring users an unprecedented intelligent operating experience.
4. Carboloy silicon printing platform: no need to use glue, perfect bonding with consumables at 60 °C, Reduce adhesion after cooling, the model and platform are easy to separate, and the model is easy to remove.
5. larger power supply:use well-known mean well large power supply,only needs 6 minutes to heat the hot bed to 100℃.
6. larger leveling nuts:Ergonomic design, easy to adjust.
7. Single wire design: only need one wire to connect the base and the gantry, which makes it looks compact and beautiful.
8. Dual fan cooling: better cooling effect, faster cooling and more efficient radiating.
9. Support water-soluble consumables: use the second nozzle to print water-soluble support, easy to remove after soaking in water, giving you a more detailed model surface.
10. All-metal extruder: better strength, longer service life, and self-contained elastic adjustment device, giving you a smoother printing experience.
11. Z-axis double screw design: more stable lifting, higher printing accuracy.
12.Resume printing while power-off: The motherboard is fully upgraded and supports continuous power failure, which effectively reduces model scrapping caused by power outages.
13.Creality3d V2.1 motherboard: all-upgrade, quality assurance, industrial-grade process, 200 hours of continuous printing without pressure.
Parameter:
Machine type
CR-X
Forming size
300*300*400mm
270*270*400mm(Dual color)
Platform size
310*320mm
Power
110/220V AC 50/60HZ
Total power
24V 480W
N.W.
15KG
Machine size
550*400*650mm
Package size
640*540*340mm
Working voltage
24V
Do you want to create large and two-color 3D prints of complex objects? Buy the Creality CR-X for processing two filaments.
Creality / Creality / Creality / Creality / Creality / Creality / Creality / Creality / Creality / Creality / Creality / Creality / Creality / Creality / Creality /